A Homeowner's Guide to Renovations
---
---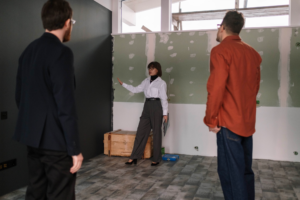 Image via Pexels
Alice Robertson of tidyhome.info | [email protected]
Home renovations can be a daunting and overwhelming prospect for newcomers. There are many steps involved in a successful home renovation, like deciding what type of renovation you want and finding the right contractors for the renovations you need. If it's plumbing work you need, for instance, check out Excellent Plumbing, Heating & Mechanical's services.
A variety of choices
Home renovations come in all shapes and sizes, from minor upgrades like painting walls or updating fixtures to major projects like knocking down walls or replacing plumbing systems. Deciding what kind of renovation you want will require careful thought and consideration. The scope and cost of your project will largely depend on the size and complexity of your desired renovation.
A home office addition
With so many professionals working remotely, adding a dedicated home office space is becoming increasingly popular as part of larger home renovations. Designing a functional yet comfortable workspace requires careful planning so that it meets your needs while still fitting into the overall aesthetic design of your home.
Connecting with a contractor
Hiring trustworthy and capable contractors is essential for any successful renovation project. When searching for the right contractors, look for those who have experience with similar projects and get references from previous clients if possible. Check their online reviews and ask questions about their experience before making any commitments.
Connecting with a plumber
From installing new fixtures to running complex gas lines, working with a qualified plumber is essential for any successful renovation. Not only do they have the training and experience necessary to get the job done right, but they can also be valuable resources when it comes to troubleshooting problems and making sure that code requirements are met. Whether you're planning a simple bathroom update or a complete home remodel, working closely with Excellent Plumbing, Heating & Mechanical will help ensure that your project is a success.
Build your renovation schedule
Creating an organized timeline and schedule for your renovation project is key to keeping everything on track throughout the duration of the job. This will include details such as when materials should arrive, by when certain tasks should be completed, etc., so that every step is accounted for without any delays or disruptions along the way.
Carefully budget
Budgeting appropriately is another important factor in any successful renovation project. Estimate how much everything will cost prior to beginning work on your project so that there are no unexpected surprises later on down the line. Don't forget to factor in little extras like paint or storage solutions that may not be included in initial estimates but are still necessary components of any successful job completion.
Contractor apps
Many contractors use special apps or software programs during their renovations. And with construction management software, they're better equipped to keep track of progress, budget costs, take measurements accurately, etc., which can make life easier both during construction as well as after completion when it comes time to file paperwork or collect payments from clients. Don't be shy about asking your contractor what they use to determine bids.
Be clear and specific
Clear communication between you and your contractor is key so that neither party has unrealistic expectations about what can be achieved within certain timelines or budgets, or worse yet, misunderstandings about what needs to be done. Have regular meetings throughout the entire process with everyone involved so that everyone's ideas are heard and taken into account without compromising quality results at the end of it all.
Spring for a home warranty
Once your renovations are complete, you can protect your investment with a home warranty. These warranties protect against unforeseen repairs that can come up after your renovation. When shopping for a home warranty, read the fine print and have a clear understanding of your coverage. Be sure to shop around for companies too, and choose a provider that comes with great reviews and top ratings.
Home renovations can be an exciting but also an intimidating journey filled with new experiences. However, understanding each part along the way can make it infinitely more manageable. These are all essential components for achieving success at every stage of this journey toward creating your perfect dream home!