New Property Plumbing Services in Colorado Springs & the Surrounding Areas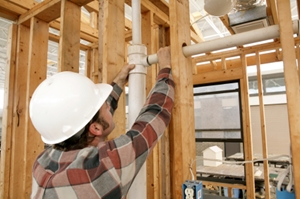 Having the home of your dream also means finding the right company for new property plumbing installations in Colorado Springs to partner with. Since 1978, the obvious choice for locals has been Excellent Plumbing, Heating & Mechanical. The bottom line is that you want your home to be set up for success, this means being able to remove the worry and possibility of problems that can result immediately from shoddy workmanship. When you work with a respected industry expert for this type of work, right from the start, then you can rest assured that your Colorado Springs new property plumbing services will be done correctly.
The problem with taking a gamble, when it comes to the professional Colorado Springs plumber you choose for this type of work, is that you can end up with shoddy work and not know it. It can take a while to discover if a so-called professional didn't correctly handle all the details of your initial installation. The trouble is, once it is unearthed, it means tearing apart walls to get to what needs to be fixed. Don't take chances when it comes to getting the proper plumbing installations that you need done.
New Property Plumbing Service Specialists
Whether you only need basic plumbing system services or will need to go above and beyond with extra whistles and bells, either way, our Colorado Springs plumbing services experts can help. We will work with you to determine what all will be involved in your new plumbing system and make sure that you have an adequate system in place. This includes considering items like your water heater and the size of the tank required to supply what you need.
This also means considering options like tankless water heaters or solar water heaters. Don't put off getting started; give us a call right now and let us review with you the options that you have and make sure that you get a system in place that will work for your new home, long term. The last thing that you need is to make repairs or replacements due to the negligence of a less than professional plumber in Colorado Springs or the surrounding areas.
Colorado Springs Plumbing Installation Services
Make sure your new dream home is ready to go by getting the Colorado Springs plumbing installation and new property plumbing services you need. Excellent Plumbing, Heating & Mechanical is the only name that you need to know when it comes to this type of work. Get in touch with us now so that we can learn more about your project and educate you on the options that you have. Find out for yourself how we have earned the reputation that we have spanning the almost 40 years we have been serving this community.

If you are looking for a plumber for new property plumbing installations in Colorado Springs, please call 719-393-9300 or complete our online request form.