Fixtures & Sump Pumps in Colorado Springs & the Surrounding Areas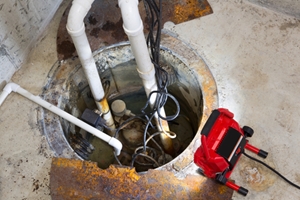 One of the reasons that you need to find a professional plumber to work with, for your plumbing fixtures and sump pumps in Colorado Springs, is that you need to know you are getting the best work possible. Here at Excellent Plumbing, Heating & Mechanical, we have earned the reputation for being the best because of our dedication to the well-being of our customers. We care about doing the best job possible because we want you to be happy, healthy, safe and comfortable. Sometimes this is about taking care of a simple repair and sometimes it is even about educating our clients about the options that they have.
It is no different when it comes to fixtures and sump pumps. Both of these can make a huge difference in your home – just for different reasons. So let us meet with you to review with you your options and help ensure that you make the best choice possible. You will quickly see why we are the number one plumber in Colorado Springs and the surrounding areas.
Top Grade Plumbing Fixtures in Colorado Springs
First of all, to clarify, fixtures are the permanent items in your house that link to your plumbing. So think about things like your sinks, tubs, toilets, baths and more. Part of the reason it is so important to make good choices is that these items are both functional and cosmetic. In other words, you do not want to choose just for looks because they perform an important duty, as well.
You will also notice you have a wide variety of materials to choose from for kitchen and bathroom fixtures; all of which can impact both the look and the functionality, as well as the care needs. Stainless steel, porcelain and other materials all fall into the wide scope of possibilities for what you will consider when choosing the right fixtures for your bathroom, kitchen and other areas of your home.
Colorado Springs Sump Pumps
Your sump pump performs a very important job; it can help keep your basement and even your entire home from flooding. This device is used in order to take water accumulation from a basement or crawlspace and then remove it from your home. Obviously, this is ideal for riding your home of water so that you don't have to worry about flooding, but it also helps reduce the likelihood of mildew or mold buildup.
If you are ready to call on a Colorado Springs plumbing services expert for your plumbing fixtures and sump pump repair or installation needs, don't wait another day. Now that you know the obvious answer is Excellent Plumbing, Heating & Mechanical, there is no reason to procrastinate any longer. Give us a call today and let's get started.
If you are looking for service for plumbing fixtures or sump pumps in Colorado Springs, please call 719-393-9300 or complete our online request form.