Commercial Boilers in Colorado Springs & the Surrounding Areas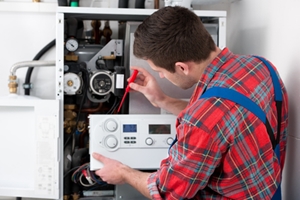 One of the most essential tasks that you need to take care of as a business is finding the right professional that services commercial boilers in Colorado Springs or the surrounding areas. The problem is that the average person puts off taking care of this, procrastinating which only puts the system at en even greater risk of having major problems. While your commercial boiler should be built well enough to last through the tests of time, it also requires you taking care of it. This especially includes making sure that you address commercial boiler repairs needs as they crop up, instead of waiting for them to develop into something much more serious.
Your business partly depends on your boiler in order to keep things running, as they should be. Many older boilers are in need of repair, badly, and this can even put your building and employees at risk of safety problems. If you find that your repair costs are going to be 50% or more than the value of your current system, then it is time to replace what you have. The bottom line is that you need to work with us in order to get the results that you want for your commercial boiler so that you can keep your company running, business as usual.
Commercial Boiler Professionals
You need to have a routine inspection of the burner, flue passages and vent pipe, just to name a few when it comes to commercial boilers in the Colorado Springs area. So when was the last time that you had any of these tasks completed? If you would like to make sure that your boiler is safe, and that you will be able to keep it up and running, you need to address the need for quality work to help make this possible. Our Colorado Springs heating services team provides the best in high quality boiler maintenance and repair services so that you can feel confident about the level of quality work you get and make sure that it is the best possible.
Do not make the mistake of waiting for something to go wrong to have your system looked at and do not wait for winter to arrive to have it checked out. Making your boiler try to work through the cold winter months when it is in need of repair is one of the worst things that you can do. Not only will it cost more to operate but it will cause problems to arise that may be even more expensive. Plus, this is a sure fire way to cause your boiler to break down and need replacement, prematurely.

Colorado Springs Commercial Boilers
Excellent Plumbing, Heating & Mechanical is ready, willing and beyond capable of taking care of any and all of your Colorado Springs commercial boiler service needs. We look forward to working with you and being able to provide you with the quality service that you want and need. You are going to feel confident knowing you have our plumbers in Colorado Springs, CO on your side to take care of this for you.
If you are looking for a reliable professional that services commercial boilers in Colorado Springs, please call 719-393-9300 or complete our online request form.