Plumbing Repairs in Colorado Springs & the Surrounding Areas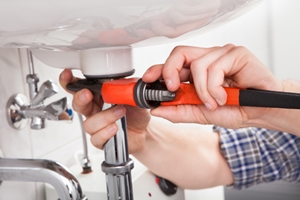 There will be plenty of times in your life when you will need to call upon the expertise of a Colorado Springs plumbing repairs professional. The good news is that you have already found the name you need to know – Excellent Plumbing, Heating & Mechanical. We have been in the business since 1978 and our experts have experience in many different facets, from installation and inspection to repairs and replacement, for residential and commercial applications.
The best part is that we truly stand behind our work with the best guarantees in the area. So, whether you have a minor plumbing repair need or need your entire home re-piped, we can take care of that for you. With almost 40 years of hands on expertise in the business, you can feel confident knowing we will get the job done for you.
Plumbing Repairs Experts
With such busy lives, it can be easy to fall behind on taking care of essential tasks, like addressing your need for plumbing repairs in Colorado Springs and the surrounding areas. Of course, then the problem becomes that those seemingly minor problems quickly become a major problem. Knowing who to call on for these issues is the first step to completing the project, plus it means you always have that reputable Colorado Springs plumber to call on in the future, as well. The important thing is to not hire someone without the experience and credentials needed to get the job done. No one wants to pay for someone to provide you with plumbing services in Colorado Springs just to need additional repairs later on because the technician was less than capable of doing the job.
Aside from the training and experience, our Colorado Springs plumbing repairs team has the tools, equipment, qualifications and skills needed to make a prompt and professional repair. As the premier choice for this type of service in this area, you can feel confident that we do whatever it takes to address the needs of our customers. Give us a call now in order to take care of your minor repair issues so that you don't have to worry about them developing into major ones. From leaky pipes and clogged drains to major plumbing problems, you can rely on our plumbers.
Colorado Springs Plumbing Repairs
We are able to take care of residential and commercial clients and repair a variety of plumbing issues that may come up. Keep in mind, the longer you wait to address your repair needs, the more likely that you are to going to waste a great deal of water and run up your utility bills, in the process. As with any other household repairs, the sooner your address them, the better.
If you are in need of an expert to work with for your plumbing repairs in Colorado Springs or the surrounding areas, give our pros here at Excellent Plumbing, Heating & Mechanical a call today. Make it a point to call now before your problem gets worse. We look forward to showing you in person how we live up to our name, as well as our reputation.
If you need reliable plumbing repairs in Colorado Springs, please call 719-393-9300 or complete our online request form.