Commercial Plumbing in Colorado Springs & the Surrounding Areas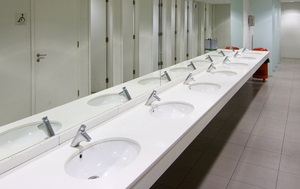 Locating the perfect company to work with for your commercial plumbing in Colorado Springs is as easy as you realizing that you have already found the right answer. Here at Excellent Plumbing, Heating & Mechanical, we are proud of the reputation that we have earned for being the best Colorado Springs plumber for commercial plumbing services. Becoming the local leading service provider for both residential and commercial plumbing is not something that we take lightly, but it is also something that we have worked hard for during the almost 40 years we have been around.
Since 1978 we have been taking care of the plumbing needs of our clients while making it a point to offer them the best in craftsmanship and customer care, while still providing the best in competitive pricing. OF course, this is what any company should be doing, we just happen to really manage to provide it for our clients. Don't take chances when it comes to something as important as the plumbing for your commercial space, give us a call to get started.
Colorado Springs Commercial Plumbing Pros
We are able to take care of a wide variety of tasks for an assortment of clientele, including retail, industrial, medical and office commercial space. The comprehensive range of plumbing services we can provide for our clients includes emergency responsive, preventative maintenance and, of course, general installation and repairs services. This includes a variety of fixtures and systems, such as:
Floor Drains
Toilets
Sinks
Sink Drains
Sewer Lines
Grease Traps
Faucets
and more
We can also address your need for commercial office building remodeling and tenant improvement projects. If your project calls for the design and installation of water, natural gas or sewage systems, even in existing structures, we can take care of that for you as well. Our goal is to be able to tackle any task you have on your commercial plumbing to-do list and provide you with the high quality results that you should be able to expect. Never settle for less than the best when it comes to the plumber you choose or the work you accept for your commercial structure.
Commercial Plumbing in Colorado Springs
Your Colorado Springs commercial plumbing is just as important as any other plumbing related service need. This can be the difference between setting you up for success, or having nothing but problems down the line. Excellent Plumbing, Heating & Mechanical will be there to provide you with whatever your business may need in terms of plumbing services in Colorado Springs and the surrounding areas. We have spent almost four decades making sure that every one of our clients gets the best service possible, and now we look forward to adding your name to that list.
If you are looking for a plumber for commercial plumbing in Colorado Springs, please call 719-393-9300 or complete our online request form.