The Black Forest Plumber You Can Trust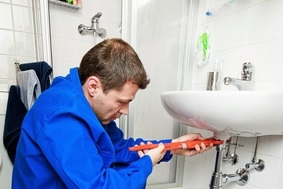 By now, you probably realize the importance of finding a reputable Black Forest plumber to work with for all of your plumbing service needs. Make the smart choice, that so many locals here before you have made, and choose Excellent Plumbing, Heating & Mechanical whenever you need an installation or plumbing repairs in Black Forest, CO. We know what it takes to get the job done and provide our clients with the long term quality results that they want and need.
We are also available 24 hours a day because we know that you don't get to choose when you have plumbing emergencies. As a Black Forest plumbing services company that genuinely cares about their clients, we want to be there for you when you need us the most. What is the point of claiming to be concerned about our customers but then not being there when an emergency happens? Get in touch with us now to find out more about what we can do for you, from plumbing and heating repairs, to water heater installation, propane to gas conversions, boiler repairs in Black Forest, CO and more.
Black Forest Boiler Repair & Installation
It could also be that you are in need of a professional plumber to address your need for boiler repairs in Black Forest, CO. One of the essential factors in keeping your home or business on track is making sure that your boiler continues to work properly. If it has been a while since you had a tune-up, or if you know that you are in need of boiler repairs in Black Forest, CO, the time to give us a call is now. Give us a call today in order to get our experts in to take a look at your residential or commercial boiler and make sure that everything is in proper working order.
Black Forest Water Heater Repair & Installation
Can you imagine going a day without hot water? Aside from comfort for things like a shower, it is essential for sanitation purposes when it comes to dishes and laundry and may be part of the legal code you have to follow for the business you have. So the last thing that you need is to end up with problems due to Black Forest water heater repairs and installation, which is one of the essential things that we can take care of, whether you have a tankless, traditional or solar water heater.
Plumbing & Heating Repairs in Black Forest, CO
The bottom line is that we will be happy to take care of any and all of your plumbing and heating repairs in Black Forest, CO. We're also hasppy to help you with any new installations or maintenance work you may need for your plumbing or heating systems. At Excellent Plumbing, Heating & Mechanical we are honored to be the top choice for local services like this, for both residential and commercial clients. If you are searching for an expert to trust in, like a Black Forest plumber, we will be there for you, any time of day or night.
See What Customers in Black Forest, CO are Saying About Us
Excellent Plumbing, Heating & Mechanical is Rated: 5 / 5
based on these 2 happy customer reviews.
---
"Rick was great! We had a water line burst and a flooded basement, called Rick and he was at my house right when he said he could get here. Looked at the problem, walked me through the solution and had it fixed in no time. Great guy, great plumber. Highly recommend!"
---
"We had an emergency call in Teller County. Rick was very quick to respond and corrected the problem. We were so impressed with Rick, we are scheduling for other work to be done on a non emergency basis as well. Being out of state landlords, we have a very high level of confidence in Excellent Plumbing & Heating."
---
If you are looking for a professional Black Forest plumber then please call 719-393-9300 or complete our online request form.