Gas-Log Fireplaces in Colorado Springs & the Surrounding Areas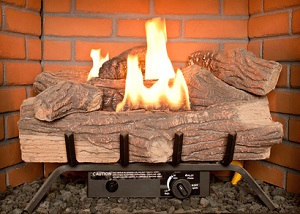 There is nothing quite a nice as having gas-log fireplaces in Colorado Springs; it is just a matter of making sure you get proper installation and maintenance. Here at Excellent Plumbing, Heating & Mechanical we can easily provide you with the service that you need for this, from gas-log fireplace installation and inspection to gas-log fireplace repairs and replacement. There are plenty of reasons that this makes the perfect addition to any home or business in Colorado.
For one thing, obviously, gas fireplaces look stunning. This can't help but become one of, if not the, focal point of any room. For another thing, it costs less to run than other forms of heat. So already you can expect to see savings on your monthly heating bills. Not to mention, nothing beats that steady and constant heat that comes from this type of heating system.
Professional Repairs & Installation of Gas-Log Fireplaces
Imagine having the beauty and heat you can only get from a log burning fireplace, with the ease and ability to simply turn it on and off with the flick of a switch. No more waiting for the fire to completely die out and trying to plan your evening around making sure this happens under controlled and monitored circumstances. Not to mention, you can control the amount of heat and light with a remote control, instead of the tedious work involved with trying to keep a fire burning.
Plus, you have a much safer alternative to traditional fireplaces because there are no sparks with gas-log fireplaces. If you wanted a standard wood burning fireplace installed, it would be a major renovation and a costly project. However, this option allows you the benefits of a traditional fireplace with the ease of same day, inexpensive installation. Even better, this also means no chimney to clean, maintain or worry about causing problems.
Colorado Springs Gas-Log Fireplaces
Keep in mind, this is also an ideal way to have the luxurious beauty of a fireplace without the concern for the safety of children and pets. While these are just a few of the added benefits of having a fireplace like this, these are a few of the most popular reasons. Get in touch with our Colorado Springs heating services team today to find out more about how you could benefit from this feature in your home or business.
When it comes to Colorado Springs gas-log fireplaces, you need to be certain that you get the best in high quality installation and repairs. Excellent Plumbing, Heating & Mechanical will be more than happy to take care of this for you. Let our Colorado Springs plumber and heating specialists meet with you in order to provide you with the quality results that you need for your fireplace.
If you are looking for a Colorado Springs gas-log fireplaces installation or repair expert, please call 719-393-9300 or complete our online request form.