Colorado Springs Water Heater Repair & Installation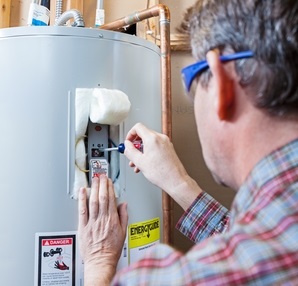 Searching for a professional to turn to for your Colorado Springs water heater repairs and installation service needs? The only name that you need to know for this type of service work is Excellent Plumbing, Heating & Mechanical. Since 1978, we have been taking care of residential and commercial clients in this area and our dedication to quality results is what has helped us earn the impeccable reputation that we have as a plumber in Colorado Springs, CO.
This type of water heater is being replaced in many households and businesses for either tankless, solar or tankless solar. However, traditional storage tank water heaters are still a great system to use for hot water. The trick is determining whether or not your current system is in need of just repairs or if you need actual water heater replacement. The bottom line is that we can help with any of your water heater installation and repair needs in the Colorado Springs area, for any hot water heating system.
Traditional Water Heater Repair & Installation Specialists
One of the best ways to determine if you need to replace your traditional tank water heater is consider the age; the older the system the more likely that you should go ahead and get yours replaced. There is no point in continuing to spend money on years of water heater repairs in Colorado Springs when it would be more cost-effective to replace what you have. Another determining factor is the amount of expense for repairs versus the current value of your water heater.
The industry guidelines are, generally, if the cost of the repairs is 50% or more of the current value of the water heater, then it is time to replace it. You can rely on our team of Colorado Springs plumbing services experts for honest feedback and suggestions. We want to establish a long term, working relationship with each of our clients. So it is in our best interest to provide you with the truthful feedback you need; we didn't last four decades by steering our clients wrong.
Call our Colorado Springs water heater repairs team today to schedule service for your system. We'll give you an honest evaluation and provide you with the service you need.
Colorado Springs Traditional Water Heater Repair & Installation
Make the smart decision to work with industry respected pros and get the results that you want, need and deserve. At Excellent Plumbing, Heating & Mechanical, you can count on us for the finest in high quality workmanship and customer service. We genuinely have your best interest in mind.
So when it comes to Colorado Springs water heater installation and repairs, now you know who to call on. We look forward to showing you what a difference true quality makes. You are going to love the dedication that we demonstrate when it comes to caring for the needs of our customers.
If you are looking for traditional water heater installation or water heater repairs in Colorado Springs, please call 719-393-9300 or complete our online request form.