Solar Water Heater Installation in Colorado Springs & the Surrounding Areas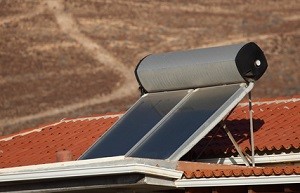 Looking for someone to rely on for Colorado Springs solar water heater installations? Or maybe you already have this system installed and reliable source for solar water heater repairs in Colorado Springs or the surrounding areas? Whatever the case may be, you will be glad to know that Excellent Plumbing, Heating & Mechanical can offer the professionalism needed to be at your service. Whether you already have a solar hot water heating system or would like to consider one, it starts with understanding it better. As your Colorado Springs plumber, we'll be happy to explain all the advantages of using this type of hot water heating system and help you decide whether it's the right water heater for you.
Solar water heaters are cost-effective and can be used in any climate. The system is made up of storage tanks and solar collectors and there are two main types of water heating systems: active and passive. The main difference is that active systems have circulating pumps and controls, while passive do not. Making sense of the options that you have and choosing what is right for you is best done by working with an industry expert with an understanding of the systems.
Solar Water Heater Repair & Installation Specialists
As more and more households turn to making efforts to be more "green," or eco-friendly, it makes sense to want to better understand your options. Taking a step towards solar is a wonderful choice to make because it means you only need to rely on the sun for the power that you need. This will help you and your home in a number of ways. For one thing, you can expect to see lower power bills each month.
Also, you can feel good about leaving a much smaller carbon footprint than a traditional home. Finally, it is also helpful to not have to rely on anything more complex than the sun for your power and heat. To find out more, or to schedule any repair needs you may have, give us a call right now. We look forward to helping you and your family better understand the advantages you can expect from turning to solar power for your hot water.
Colorado Springs Solar Water Heater Installations & Repairs
Having the choice to go with solar for your water heater is a great one to have and Excellent Plumbing, Heating & Mechanical wants to be a part of helping you make that transition. Give our Colorado Springs plumbing services team a call now so that we can review your options with you and help you make a choice about what would work best for you. You are going to love the savings you will see when you make the change, plus it will feel good knowing your home or business is more eco-friendly. So when it comes to Colorado Springs solar water heater installation and repair, keep us in mind to help make the transition and ensure that you get the quality results that you want and need.
If you are looking for Solar Water Heater Installation in Colorado Springs, please call 719-393-9300 or complete our online request form.