7 Experts You Need On Your Custom Home Build Team
---
---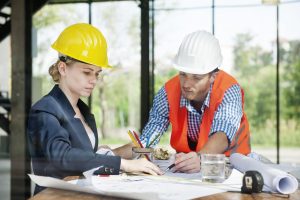 Suzie Wilson of happierhome.net | [email protected]
When you're building a custom home, you want to ensure every dollar is spent well. While you may save on initial costs by hiring one entity to handle everything, that can result in unsatisfactory work, code violations, and any other number of issues that end up costing you more money in the long run. Custom home building is a complex job, which is why it's critical to put together a team of professionals — with each of them handling the tasks they do best.
While there are many professionals you might consider when building a home from scratch, Excellent Plumbing, Heating & Mechanical lists which ones are the most essential.
Realtor
Before any planning or building happens, you need to secure some land. A professional realtor can help you choose the right parcel, get neighborhood info, and make sure you're paying a fair price. When choosing, there are several questions you will want to ask potential professionals. Make sure you know how experienced they are in the areas you want to build, and that no one has filed a complaint against them.
Architect
It's up to your architect to put your grand ideas on paper. According to Good Financial Cents, a great architect will not only be able to bring your ideas to life, but they will also be able to recommend necessary adjustments to the plan so as to maximize your home's function and accessibility. That is, they will walk you through the process, factor in your vision, and design a home that marries your desires with the most effective use of the property.
Home Builder
A home builder takes the architect's blueprints and makes them a reality. Typically, this involves a large crew or several smaller crews. Your home builder will be responsible for all the major construction of the home, and they will work closely with other professionals to ensure a cohesive process.
Landscaper
Landscapers are important because they help to design the property surrounding your house. A trustworthy landscaper will be able to work with your architect to maximize the function and beauty of your lawn and garden. They can go through the design with you and suggest certain plants, trees, and other features that will give your home breathtaking curb appeal.
Plumber/HVAC Technician
Plumbing a house from scratch requires a dedicated contractor who understands all the details of new home plumbing installation. They'll ensure pipes, fixtures, drains, toilets and sewer lines are properly installed and connected. When you partner with a contractor like Excellent Plumbing, Heating & Mechanical, you have the added benefit of their heating expertise for the installation of your heating services. Plus, in addition to boiler installation, we also provide gas-log fireplace services.
Interior Design Experts
Like a landscaper designs the exterior of your home, interior design experts will handle the inside. Experienced designers will be able to sit down with you, discuss your vision for the home, recommend ideas, and bring beauty, comfort, and function to each space.
Typically, you will talk to your interior decorator about what overall style you're going for (e.g., rustic, mid-century modern, cottage, contemporary, etc.), as well as any specific ideas you have for each room. From there, the designer can walk you through what colors, decor, furniture, and other elements are needed. They can even help you come up with a reasonable budget and/or help you stay accountable to the budget. Then, you'll talk to experts on specific features of your home.
Electrical Engineer
Electricity is a critical aspect of the home-building process, and it requires someone with expertise; otherwise, you could end up with outlets that don't work. To avoid faulty wiring, be sure to hire a qualified electrical engineer to map out the electricity in your home.
Furthermore, you can expect to see electricians throughout much of the home building process, from prepping wires and boxes during framing, to installing cover plates after the drywall is put up, to testing the whole electrical system once construction is finished.
Seeing It Through
A custom build is a major undertaking, and there's a lot to keep track of and to manage on your own. To avoid bottlenecks on your end, it's paramount that you both communicate and plan effectively. Communication is key to working with all of your contractors. Doing so ensures you're all on the same page and that they understand your vision. As for planning, it helps to have a visual map of your home build's trajectory from start to finish. To get a close-up view, create an online calendar using features that bring your to-do list and schedule to life with sticky notes and visuals. Having your calendar online also makes it easy to share with your contractors so everyone stays on the same page.
Putting together a good team of professionals is the best way to ensure your custom home is built the way you want. Remember to find a reputable and qualified architect, builder, home inspector, landscaper, interior designer, and electrical engineer. While there are other professionals that could prove helpful in the process, these are five that you can't go without.
Image via Rawpixel