A Word to the Water-Wise in Colorado Springs
---
---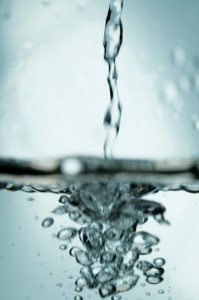 The basic idea behind water-saving devices is to restrict water consumption rates where heaviest use occurs. Indoor Colorado Springs water usage runs at about 40 percent for toilets, 30 percent for baths and showers (more for baths), 15 percent for clothes washers and 15 percent for cooking and kitchen use.
TOILET WATER SAVERS
The first target for water conservation is the toilet. A number of devices are designed to reduce the amount of water used to flush a conventional toilet.
One such device is a dual-flush mechanism that allows about one-half tank flush for liquid waste by depressing the tank lever handle in the normal manner and full-tank flush for solid waste by depressing the lever and holding it down. These devices can save from 40 to 50 percent of normal water consumption.
There are also water-saving toilets that have smaller holding tanks and use less water to flush.
Leaks in the toilet tank can also be a source of excess water usage. These are usually due to worn out parts. Leaks can be detected by adding dark food coloring to the tank and checking about 20 minutes later to see if the toilet bowl water has turned the same color.
SHOWERS AND BATHS
Showers and baths are the next target for water saving. The most common devices are flow-control valves, flow restrictors and aerators that can be added to existing fixtures. New showerheads can also be installed that feature water-saving capabilities.
There is a distinct difference between a flow-control valve and a flow restrictor. The flow-control valve restricts the flow of water to about 2.75 gals. per minute, automatically making adjustments for water-pressure changes.
A flow restrictor does not make an automatic adjustment if the pressure changes. Therefore, more water is used as the pressure increases.
Some of these devices have manual controls to adjust water flow from flood to shutoff. Many include a weep to help prevent back pressure in the pipes.
Many of these showerheads also have manual controls to adjust the amount of water flow so less water can be used for soaping and more for rinsing.
These devices help restrict the flow of water from a typical rate of seven gals. per minute to about two to three gals.
FAUCETS
The third target for water saving around your Colorado Springs home is the bathroom and kitchen faucets. Like the shower or bathtub, water is consumed at the rate of about 7 gals. per minute. A restrictor (or aerator) can reduce the flow to 2- to 3- gals. Per minute.
There are models which automatically adjust the flow to 2- to 3- gals. per minute. There are models which automatically adjust the flow rate according to water-pressure changes and other models which do not make automatic compensations. Some have manual controls for the Colorado Springs homeowner to preset the amount of restriction.
Several states, such as New York and California, have code requirements on faucets and showerheads. Since these water-saving devices also control the proportion of hot water used, they have the additional selling point of being a fuel saver.
regardless of state mandated use of water saving devices, it is in your best interest to modify your water usage. Your Colorado Springs plumbing contractor knows the benefit of all these devices and can advise you as to which will be most beneficial in your case and will then gladly install any water saving plumbing fixture for you.
If you are looking for a Colorado Springs toilet water conservation service then please call 719-393-9300 or complete our online request form.