Our Troops Have Served Us Well. We'd Like to Return the Favor.
---
---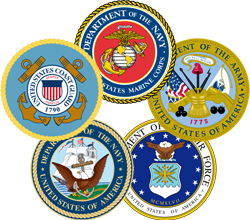 We at Excellent Plumbing, Heating &  Mechanical, your Colorado Springs plumber would like to express our deepest respect for our armed forces. The sacrifices they make each day on behalf of our country are immeasurable. It is only due to the dedication of these fine men and women that we enjoy the freedoms bestowed upon us today. Far too often their sacrifices are taken for granted, but that in no way impedes their dedication. We can not begin to repay the debt to our soldiers – veterans and currently active alike. We can only humbly offer our services at what we know best. We hope that any member of the armed forces, past or present, will accept our offer of plumbing at a discounted price. Whether it be a leaky faucet, a clogged toilet or a broken water heater in your Colorado Springs home, – whatever the problem may be – we'd be honored to take care of it for a minimal charge and in a timely and efficient manner. Please give us a call, and once again, thank you for your service. You make us proud to be American!
If you are looking for a Colorado Springs plumber for a leaky faucet then please call 719-393-9300 or complete our online request form.