Heating Repairs vs. Replacement
---
---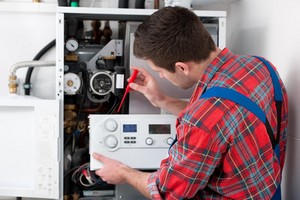 Your home's heater provides an essential function for the comfort of your indoor environment. When the furnace breaks down, you are faced with repairs. At some point in time, you'll be faced with replacing it. You may be told that it's time by a heating professional or a Colorado Springs HVAC specialist. But how do you know when it is time to replace your Colorado Springs furnace? There are a few things you can look for to make this decision. If you still aren't sure, Excellent Plumbing, Heating, & Mechanical in Colorado Springs can help.
The Age of Your Furnace Or Boiler
When you are deciding whether or not to repair or replace your furnace, you should first consider the age of your equipment. A properly maintained furnace will typically last 15 to 20 years. This number can vary based on how often the equipment is maintained and soon repairs are done. Rule of Thumb: If the repairs for your furnace are going to be higher than half the cost of replacing it with a new one, it's a good indication that replacement would be more economically feasible.
Rising Energy Bills
As your furnace gets old, it has to work overtime to keep your home at a comfortable temperature. This means the heating system is going to use more energy. More energy used = higher gas or electric bills. If you think this might be a happening with your furnace or boiler, our professional Colorado Springs heating repair specialists can inspect your heating equipment to and assess whether it needs repairs, a tune-up, or replacement.
Your Furnace Or Boiler Makes an Odd Noise
A furnace will sometimes give off warning signals when it's wearing down beyond repair. Visually inspect your unit and listen to your system so you can recognize problems when they arise. If anything looks or sounds unusual, call us. We will inspect the heating equipment and give you advice about repair or replacement. If your boiler or furnace is making a loud clanking or banging sounds, then something is clearly wrong. These are definite signs that your heating equipment is malfunctioning. Continual repairs are a sure sign that it's probably time to replace your furnace.
Furnace & Boiler Brands
When you are purchasing a new furnace or boiler to replace your old one, the manufacturer brand name is important. It is also important to have a reputable, trustworthy, and qualified Colorado Springs heating technician do the installation. Here are some of the most popular and trustworthy name brands:
Lennox
Goodman
Carrier
Daikin
Rheem
If you need heating repairs or replacement in Colorado Springs, please call 719-393-9300 or complete our online request form.