Free Standing or Built-In Jetted Tub?
---
---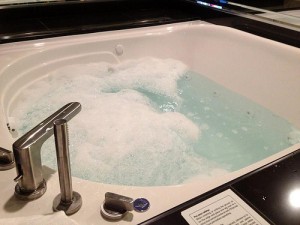 Whirlpool bathtubs have been around since the 1960s and until recently have remained unchanged. Although the basic concept of the whirlpool bathtub has remained the same, today's jetted bathtubs are filled with innovative features and designed to be as aesthetically pleasing as they are comfortable and relaxing.
The basic jetted tub comes in two different forms: the drop in bathtub which has been around since the 1960's and the free standing jetted bathtub a new innovation that came along in the late 90's. The free standing bathtub has revolutionized the way people install Jacuzzi style bathtubs. Free standing bathtubs are not technically considered a fixture; the free standing bathtub installation has more in common with a washing machine then a recessed bathtub. They are built atop a stainless steel tubular frame which gives the unit added stability and elevates the unit so it can utilize any existing drain the sits beneath the base. Just based on ease of installation, free standing whirlpool bathtubs have become more popular than their old fashion drop in cousins. Your Colorado Springs plumber can install your free standing whirlpool bathtub easily and efficiently and have you up and running in no time.
Since free standing jetted bathtubs are supported by a tubular frame there is also additional room for features that until recently couldn't be found in any bathtub. Chromo therapy lighting, FM radio, speakers and waterproof televisions are just a few extras that can be found in today's free standing jetted bathtubs. Although they may not appeal to everyone, these new futuristic bathtubs have made quite a splash with the tech and gadget crowd.
Technically savvy bathers are not the only ones who gravitate towards the new self-supporting tubs.  Colorado Springs interior designers and builders alike favor them for their ease of installation, low cost and wide variety of designs and styles. Unlike drop in Jacuzzi bathtubs, free standing units don't just come in a few standard sizes; there are literally thousands of styles ranging from claw foot antique style jetted bathtubs to units inspired by our favorite aquatic life.
Compared to a standard whirlpool bath installation, a free standing jetted bathtub only takes a small fraction of the time, and they are designed for quick and easy remodels. The tubular frame has adjustable feet so the tubs can always be leveled even if your floor is not. The drain stub is also elevated and if there is an existing drain sitting underneath the base of the tub it can be attached easily with a Fernco connection. The water lines are connected via metal braided hoses ( ½" hot and cold). The electrical on free standing bathtubs ranges from unit to unit but many of them can simply be plugged into a standard outlet. The standard installation time for a prepped free standing whirlpool bath is around 15 minutes to an hour.
Overall if you are in the market for a whirlpool jetted bathtub for your Colorado Springs home, you might want to consider a free standing model. You will save money along virtually every part of the process as well as time and frustration. You will also find the selection of models, styles and colors to be superior to the traditional style bathtub.
If you're looking for a Colorado Springs, or Woodland Park, area Bathroom Remodeling Plumber, then give us a call today at 719-393-9300 or complete our request estimate form.